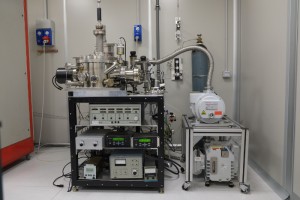 Veeco, Kurt J. Lesker
Daniela Petti, Edoardo Albisetti
Only authorized Polifab personell
Magnetic Thin Films – PoliFab Cleanroom – Via G. Colombo 81, 20133 Milano (Italy)
Description:
Ion mill system to define structures through a photoresist or hard mask on 1 inch substrates. Two independent fluximeters allows the operation with a beam neutralizer. The rotating sample holder can be tilted up to 60° with respect to the ion beam. The system is also equipped with an ion source (3") for reactive magnetron sputtering (Ar and N2).
Specifications
Ion Beam Etching:
Base pressure: 1×10-5 Torr
3 cm FC ion source (diameter at grids)
Motorized rotating sample holder for 1 inch wafers
The sample holder can be tilted (0-60°)
Ar fluxes: 1-4 sccm
Plasma Bridge Neutralizer
Beam current: 0- 100 mA
Beam voltage: 50 – 1200 eV
Magnetron Sputtering:
Base pressure: 1×10-5 Torr
3 inches TORUS UHV Source (Kurt J Lesker)
Thickness uniformity of ±3 %.
Reactive magnetron sputtering with RF source (Ar+, N2)
Integral gas injection port to introduce process gas at the target's surface but also in the chamber
High-strength rare earth magnet arrays for sputtering magnetic and non-magnetic materials
Magnet array is isolated from cooling water and can be removed without breaking vacuum
Standard—Type-N (male) power connectors, indirect water cooling, and balanced magnetic operation