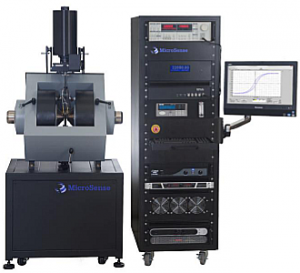 Microsense, LLC (http://www.microsense.net/)
EZ-9
Christian Rinaldi, Matteo Cantoni
NaBiS group and collaborators (ask for magnetic characterizations)
Nanomagnetism Lab – via G. Colombo 81, 20133 Milano (Italy)
Description
A Vibrating Sample Magnetometer (VSM) is a scientific instrument able to measures magnetic properties of materials in an external magnetic field, invented in 1955 by Simon Foner at Lincoln Laboratory MIT.
A VSM converts the dipole field of the sample into an ac electrical signal. The sample is placed inside a uniform magnetic field and then vibrated sinusoidally. That creates a corresponding variation of the magnetic flux in pickup coils placed nearby, inducing a sinusoidal voltage. The amplitude of the ac voltage is proportional to the sample magnetic moment and measured by a lock-in amplifier.
MicroSense Vibrating Sample Magnetometers (EZ-9) are the easiest to use and most sensitive vibrating sample magnetometers available. EZ-9 is able to measure magnetic moments down to 1 µemu, hysteresis loop of thin films or studying the magnetic properties of liquids, powders, or bulk samples.
Moreover, by using MATLAB we are able to perform manual or fully-automatize magneto-electric measurements, even with the temperature option. Patterned devices produced by lithography can be connect through bonding to a proper sample holder. The properties of devices can be studied as a function of magnetic field, temperature, currents and electric fields. Finally, it is possible to perform automated complex preparation sequences (e.g. magnetic field cooling for spintronic devices based on antiferromagnets).
Specifications
Liquids, powders, bulk samples, thin films
Sample dimension: ~10×10 mm2 sample at room temperature, ~5×5 mm2 sample for temperature characterization
Magnetic field up to 2.25 Tesla
Oven/cryostat always installed on the measurement system and ready for use

Temperature control: from 100 K to 1000 K
Temperature ramp rate: up to 60-100 K/min

0.75 x 10-7 emu (75 nemu) noise at room temperature
Lowest field noise: less than 5 mOe RMS is > 10 times lower than the field noise of competing systems
Automatic Sample Rotation
3 systems in one: VSM, Magneto Resistance and MOKE