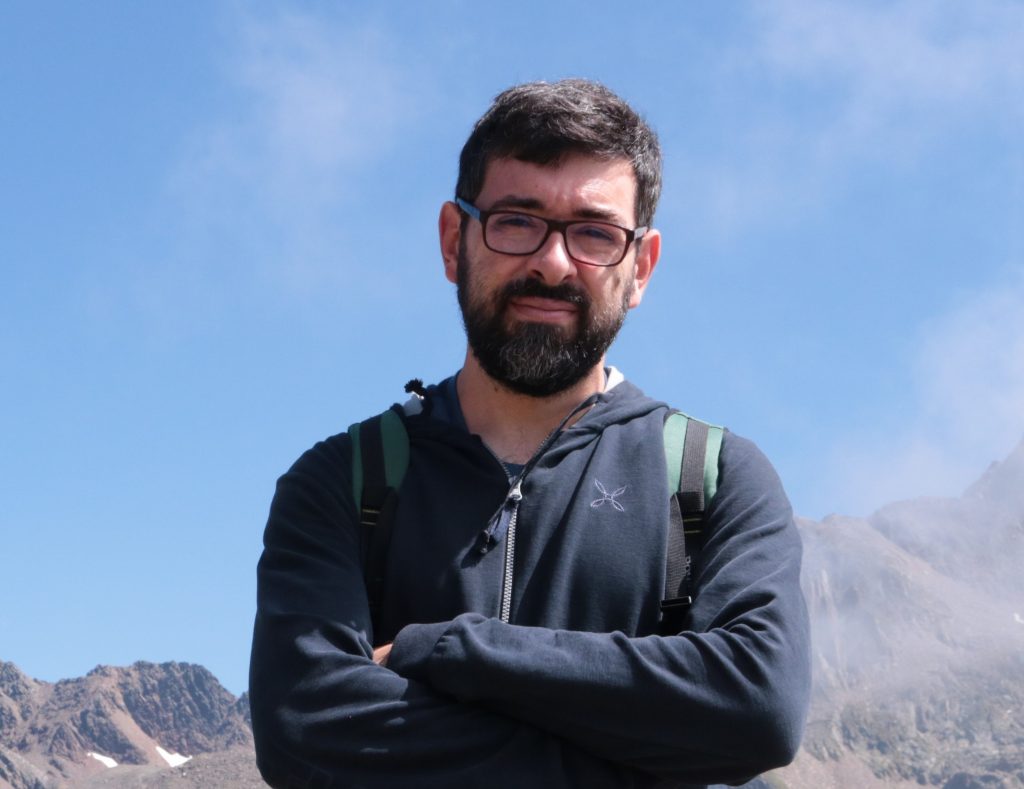 Matteo Cantoni was born in 1974 in Milano, Italy. He graduated in Nuclear Engineering in 1999 and got his PhD in Physics in 2005. From 2008 to 2014 he was assistant professor at the Physics Department of Politecnico di Milano, and from 2014 he is associate professor in the same university. His research activity is devoted to the realization and characterization of magnetic and multiferroic heterostructures and devices for spin electronics. He is actually the main investigator in the Spin Polarimetry research line.
He coordinated two research projects:
He is author of more than 90 publications on international journals (WOS h-index 20), 1 chapter book, 4 patent applications, and a textbook on wave physics. He is editor of journal Materials.
He is lecturer of two courses:
Publications
2019
G. Vinai, F. Motti, V. Bonanni, A. Y. Petrov, S. Benedetti, C. Rinaldi, M. Stella, D. Cassese, S. Prato,

M. Cantoni

, G. Rossi, G. Panaccione, and P. Torelli, "Reversible Modification of Ferromagnetism through Electrically Controlled Morphology,"

Advanced Electronic Materials

, vol. 5, iss. 7, 2019.
[Bibtex]

@ARTICLE{Vinai2019,
author={Vinai, G. and Motti, F. and Bonanni, V. and Petrov, A.Y. and Benedetti, S. and Rinaldi, C. and Stella, M. and Cassese, D. and Prato, S. and Cantoni, M. and Rossi, G. and Panaccione, G. and Torelli, P.},
title={Reversible Modification of Ferromagnetism through Electrically Controlled Morphology},
journal={Advanced Electronic Materials},
year={2019},
volume={5},
number={7},
doi={10.1002/aelm.201900150},
art_number={1900150},
note={cited By 0},
url={https://www.scopus.com/inward/record.uri?eid=2-s2.0-85063984346&doi=10.1002%2faelm.201900150&partnerID=40&md5=a7dbee8548d6bead6a2a2122e45ce26d},
document_type={Article},
source={Scopus},
}
2018
2016
2015
M. Asa, L. Baldrati, C. Rinaldi, S. Bertoli, G. Radaelli,

M. Cantoni

, and R. Bertacco, "Electric field control of magnetic properties and electron transport in BaTiO3-based multiferroic heterostructures,"

Journal of Physics Condensed Matter

, vol. 27, iss. 50, 2015.
[Bibtex]

@ARTICLE{Asa2015,
author={Asa, M. and Baldrati, L. and Rinaldi, C. and Bertoli, S. and Radaelli, G. and Cantoni, M. and Bertacco, R.},
title={Electric field control of magnetic properties and electron transport in BaTiO3-based multiferroic heterostructures},
journal={Journal of Physics Condensed Matter},
year={2015},
volume={27},
number={50},
doi={10.1088/0953-8984/27/50/504004},
art_number={504004},
note={cited By 11},
url={https://www.scopus.com/inward/record.uri?eid=2-s2.0-84948751744&doi=10.1088%2f0953-8984%2f27%2f50%2f504004&partnerID=40&md5=5e6959eeebfc38db1b1889bced18368d},
document_type={Article},
source={Scopus},
}

R. Bertacco, G. Radaelli, D. Petti, E. Plekhanov, I. Fina, M. Asa, L. Baldrati, C. Rinaldi,

M. Cantoni

, P. Torelli, D. Gutiérrez, G. Panaccione, M. Varela, S. Picozzi, and J. Fontcuberta, "Switching magnetic order at an Fe/BaTiO3 interface on and off: Impact on hybrid magnetic-ferroelectric tunnel junctions." 2015.
[Bibtex]

@CONFERENCE{Bertacco2015,
author={Bertacco, R. and Radaelli, G. and Petti, D. and Plekhanov, E. and Fina, I. and Asa, M. and Baldrati, L. and Rinaldi, C. and Cantoni, M. and Torelli, P. and Gutiérrez, D. and Panaccione, G. and Varela, M. and Picozzi, S. and Fontcuberta, J.},
title={Switching magnetic order at an Fe/BaTiO3 interface on and off: Impact on hybrid magnetic-ferroelectric tunnel junctions},
journal={2015 IEEE International Magnetics Conference, INTERMAG 2015},
year={2015},
doi={10.1109/INTMAG.2015.7156521},
art_number={7156521},
note={cited By 0},
url={https://www.scopus.com/inward/record.uri?eid=2-s2.0-84942474971&doi=10.1109%2fINTMAG.2015.7156521&partnerID=40&md5=7b1ca4b802550c590c332980923b7e48},
document_type={Conference Paper},
source={Scopus},
}
2014
2013
E. Albisetti, D. Petti,

M. Cantoni

, F. Damin, A. Torti, M. Chiari, and R. Bertacco, "Conditions for efficient on-chip magnetic bead detection via magnetoresistive sensors,"

Biosensors and Bioelectronics

, vol. 47, pp. 213-217, 2013.
[Bibtex]

@ARTICLE{Albisetti2013213,
author={Albisetti, E. and Petti, D. and Cantoni, M. and Damin, F. and Torti, A. and Chiari, M. and Bertacco, R.},
title={Conditions for efficient on-chip magnetic bead detection via magnetoresistive sensors},
journal={Biosensors and Bioelectronics},
year={2013},
volume={47},
pages={213-217},
doi={10.1016/j.bios.2013.03.016},
note={cited By 17},
url={https://www.scopus.com/inward/record.uri?eid=2-s2.0-84876329725&doi=10.1016%2fj.bios.2013.03.016&partnerID=40&md5=f482823721b7eb95517926e132127d65},
document_type={Article},
source={Scopus},
}

F. Djeghloul, F. Ibrahim,

M. Cantoni

, M. Bowen, L. Joly, S. Boukari, P. Ohresser, F. Bertran, P. Le Fèvre, P. Thakur, F. Scheurer, T. Miyamachi, R. Mattana, P. Seneor, A. Jaafar, C. Rinaldi, S. Javaid, J. Arabski, J. -P. Kappler, W. Wulfhekel, N. B. Brookes, R. Bertacco, A. Taleb-Ibrahimi, M. Alouani, E. Beaurepaire, and W. Weber, "Direct observation of a highly spin-polarized organic spinterface at room temperature,"

Scientific Reports

, vol. 3, 2013.
[Bibtex]

@ARTICLE{Djeghloul2013,
author={Djeghloul, F. and Ibrahim, F. and Cantoni, M. and Bowen, M. and Joly, L. and Boukari, S. and Ohresser, P. and Bertran, F. and Le Fèvre, P. and Thakur, P. and Scheurer, F. and Miyamachi, T. and Mattana, R. and Seneor, P. and Jaafar, A. and Rinaldi, C. and Javaid, S. and Arabski, J. and Kappler, J.-P. and Wulfhekel, W. and Brookes, N.B. and Bertacco, R. and Taleb-Ibrahimi, A. and Alouani, M. and Beaurepaire, E. and Weber, W.},
title={Direct observation of a highly spin-polarized organic spinterface at room temperature},
journal={Scientific Reports},
year={2013},
volume={3},
doi={10.1038/srep01272},
art_number={1272},
note={cited By 82},
url={https://www.scopus.com/inward/record.uri?eid=2-s2.0-84874306531&doi=10.1038%2fsrep01272&partnerID=40&md5=cd3a9d7abf27c72d6ece52e9fcc8ef91},
document_type={Article},
source={Scopus},
}
2012
2011
2010
2009
2008
2007
2006
2005
2004
M. Cantoni

and R. Bertacco, "High efficiency apparatus for spin polarized inverse photoemission,"

Review of Scientific Instruments

, vol. 75, iss. 7, pp. 2387-2392, 2004.
[Bibtex]

@ARTICLE{Cantoni20042387,
author={Cantoni, M. and Bertacco, R.},
title={High efficiency apparatus for spin polarized inverse photoemission},
journal={Review of Scientific Instruments},
year={2004},
volume={75},
number={7},
pages={2387-2392},
doi={10.1063/1.1753681},
note={cited By 16},
url={https://www.scopus.com/inward/record.uri?eid=2-s2.0-3843094832&doi=10.1063%2f1.1753681&partnerID=40&md5=420d4689ede0cc3b0f5fad203b1324ac},
document_type={Article},
source={Scopus},
}

R. Bertacco, M. Riva,

M. Cantoni

, F. Ciccacci, M. Portalupi, A. Brambilla, L. Duò, P. Vavassori, F. Gustavsson, J. -M. George, M. Marangolo, M. Eddrief, and V. H. Etgens, "Electronic, magnetic, and structural properties of the Fe/ZnSe interface,"

Physical Review B – Condensed Matter and Materials Physics

, vol. 69, iss. 5, 2004.
[Bibtex]

@ARTICLE{Bertacco2004,
author={Bertacco, R. and Riva, M. and Cantoni, M. and Ciccacci, F. and Portalupi, M. and Brambilla, A. and Duò, L. and Vavassori, P. and Gustavsson, F. and George, J.-M. and Marangolo, M. and Eddrief, M. and Etgens, V.H.},
title={Electronic, magnetic, and structural properties of the Fe/ZnSe interface},
journal={Physical Review B - Condensed Matter and Materials Physics},
year={2004},
volume={69},
number={5},
page_count={7},
doi={10.1103/PhysRevB.69.054421},
note={cited By 19},
url={https://www.scopus.com/inward/record.uri?eid=2-s2.0-12144291214&doi=10.1103%2fPhysRevB.69.054421&partnerID=40&md5=19cab0926423d56cb7362699fb7e987f},
document_type={Article},
source={Scopus},
}

M. Portalupi, R. Bertacco,

M. Cantoni

, A. Brambilla, M. Riva, L. Duó, and F. Ciccacci, "Electronic and magnetic properties of the Fe/ZnSe(0 01) interface,"

Journal of Magnetism and Magnetic Materials

, vol. 272-276, iss. III, pp. 1907-1908, 2004.
[Bibtex]

@ARTICLE{Portalupi20041907,
author={Portalupi, M. and Bertacco, R. and Cantoni, M. and Brambilla, A. and Riva, M. and Duó, L. and Ciccacci, F.},
title={Electronic and magnetic properties of the Fe/ZnSe(0 01) interface},
journal={Journal of Magnetism and Magnetic Materials},
year={2004},
volume={272-276},
number={III},
pages={1907-1908},
doi={10.1016/j.jmmm.2003.12.342},
note={cited By 2},
url={https://www.scopus.com/inward/record.uri?eid=2-s2.0-23044440479&doi=10.1016%2fj.jmmm.2003.12.342&partnerID=40&md5=9d55f5487abc0f1658fd2b806d89d1a6},
document_type={Article},
source={Scopus},
}
2000
M. Cantoni

, M. Marseguerra, and E. Zio, "Genetic algorithms and Monte Carlo simulation for optimal plant design,"

Reliability Engineering and System Safety

, vol. 68, iss. 1, pp. 29-38, 2000.
[Bibtex]

@ARTICLE{Cantoni200029,
author={Cantoni, M. and Marseguerra, M. and Zio, E.},
title={Genetic algorithms and Monte Carlo simulation for optimal plant design},
journal={Reliability Engineering and System Safety},
year={2000},
volume={68},
number={1},
pages={29-38},
doi={10.1016/S0951-8320(99)00080-0},
note={cited By 83},
url={https://www.scopus.com/inward/record.uri?eid=2-s2.0-0033890510&doi=10.1016%2fS0951-8320%2899%2900080-0&partnerID=40&md5=d47b13db34f315ef948f0474aedb7dc6},
document_type={Article},
source={Scopus},
}